Settings
Before using the Survey module, you must first choose how Aptexx handles survey delivery for your properties. To do this navigate to Surveys > Settings. The Settings screen is where you can choose the events that trigger surveys, how often surveys are sent, and whether surveys are sent via email or text.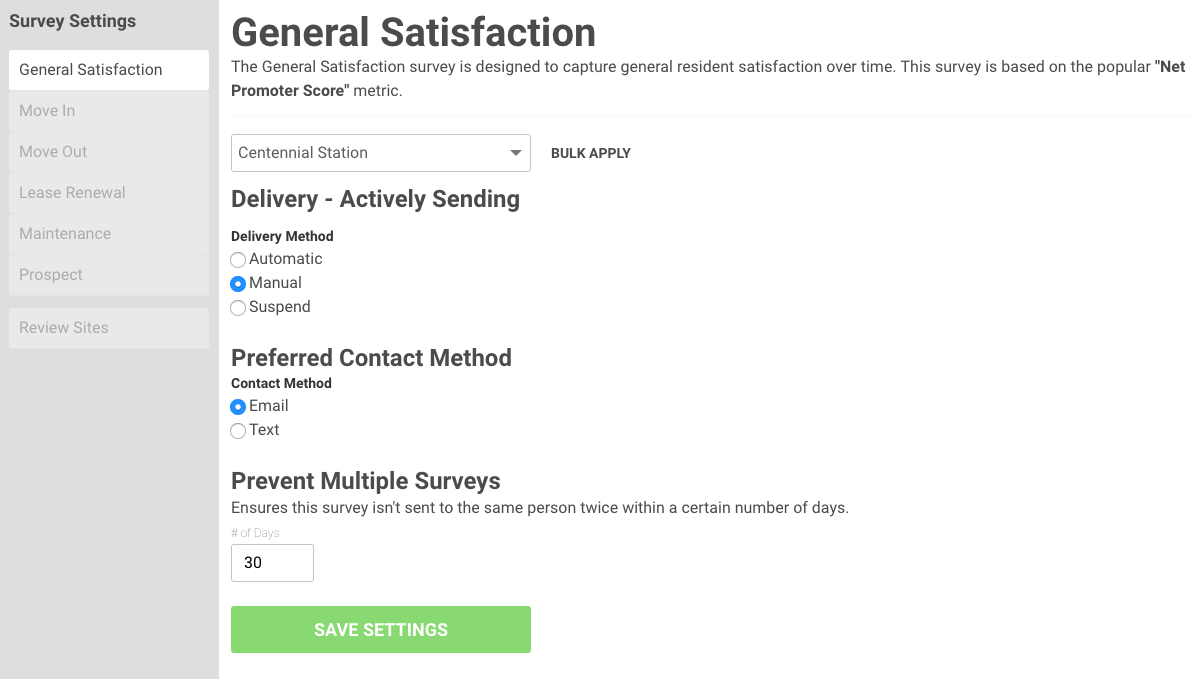 Survey Settings - Below this header are the six types of surveys available. For each survey type you will choose when and how surveys are sent to your residents. Once you have chosen your settings for a survey type, you can click on "Bulk Apply" to apply those settings or that survey type to all or some of your properties. Once you have chosen your settings for your property or properties, you can begin to solicit survey responses from your residents.
Delivery Method - choose one of three options that determine how surveys are triggered:
A

utomatic

sends a survey once the trigger condition is met (e.g. after the number of days selected since the last General Satisfaction survey was sent, or after the number of days selected post-Move In or Move Out).

Manual allows for the use of the Surveys>Manual Send option using the other settings in this section.
Suspend - disallows the sending of the chosen survey type, either automatically or manually.
Preferred Contact Method - Choose email or text delivery.
Prevent Multiple Surveys - Here you can put measures in place to prevent overly frequent survey solicitation. This applies both to triggered events causing automatic surveys as well as manual surveys.
The Review Sites tab allows you to input one or two URLs that are offered as links to respondents who reply favorably. (Negative reviews are not offered a link.)