Messaging
Conversations:
The Conversations page has options for reading, responding to, and managing messages between a property and a renter. Conversations can be filtered by:
Unreplied – Unreplied messages are new messages to the property.
Open – Open conversations are ones in which you have replied to the original message and are awaiting response.
Closed – Closed messages are messages that have been replied to, and there is no more information needed from the renter.
Note: Conversations are saved in the message pane, even when closed. This is so that you can always see the history of communication between the property and the renter.
Person Details: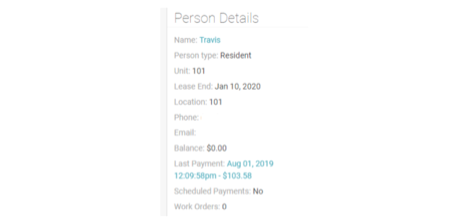 On the top right of the Conversations page, you can see the Person Details. This information includes the person's name (hyperlinked to their Resident Page), their Type (renter or prospect), their unit number, when their lease expires, their location, contact information, their current balance, their last payment date and amount (hyperlinked to the payment information), whether or not they have set up a scheduled payment, as well as the total number of work orders they have created.
Download Conversation: You can download a .pdf file containing the entire history of messages back and forth between a property and a renter. This can be useful in managing chargebacks and other legal matters.
Email/Text and Reply and Close/Reply:

Below the message window, you have the option to choose whether you would like to send your message as an email or a text. You can also insert emojis, attachments, or hyperlinks into your message. To send the message, you click "Reply and Close" or "Reply". If you reply to a message, but still need information from the renter, click Reply. If you reply to a message and you do not need any more information from your renter, click Reply & Close. This "closes" the interaction, so that when you filter all of your conversations to "Open" it will not appear. This denotes that the conversation has been completed. Note: You will always have access to all messages in Aptexx.