People
The Prospects Page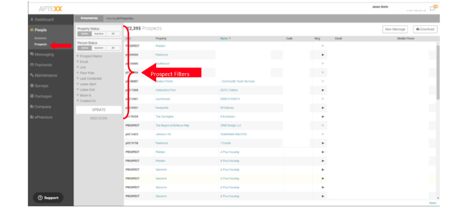 Like the Resident Page, the Prospects page shows you information about the prospective renters you have entered into Aptexx. The default page shows all prospects along with Unit, Property, Name (in alphabetical order by first name), Message, Email and Mobile Phone. The results are filterable so you can manage individual, or groups, of prospects.
You can filter the prospects by the Person Status (Active, Inactive, All) and search by name.
Email
Unit
Floor Plan
Last Contacted by date range
Lease Start by date range
Lease End by date range
Move In by date range
Created On by date range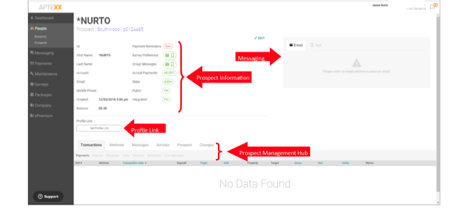 Like the People > Resident page, there is a prospect information section, a place where you can send a text or email to the prospect, the ability to find the prospect's Profile link to copy and paste into a text or email, and the Prospect Management Hub.
Prospect Information: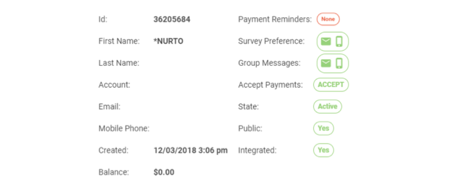 The Prospect Information portion of the Prospect page shows basic information about the prospect, including contact information, when the account was created and the account number, whether and how they prefer to receive Surveys and Group Messages, their payment status, as well as integration information.
Messaging:

You can send emails or texts to the prospect from the Prospect Page.
Profile Link:

When you click on the Profile Link button, it shows you both the link to your property, as well as a button to click which will automatically copy that link to your Notepad, allowing you to easily paste that link into an email or other communication you might send outside of Aptexx.
Prospect Management Hub:

The Prospect Management Hub, like the Resident Management Hub, is the heart of the Prospect page. There are several tabs, and each tab may have sub tabs. Under the Transactions tab, you can research Payments, Refunds, Reversals, Voids, Declines, Schedules and Cash Barcodes. Under the Methods tab you can research any payment methods your renter has entered into Aptexx. Under the Messages tab, you can view Conversations and Sent Messages. Under the Surveys tab, you can see the response, the survey type, when a survey was sent and responded to, as well as any notes attached to the survey response. The Prospect tab shows internal information such as different IDs and codes, unit and floor plan, the dates of visits and the last contact, the prospective lease from and to dates, as well as the move in date. The Changes tab shows you any changes that have occurred to the renter's profile. This may include when a balance changes, when a status changes, when contact information is updated, etc.